Step 1:
Step 2:
Go to the download portal
Step 3:
Click on the McSecure Mobile Security app
Step 4:
Step 5:
1. Go to ' Settings '> ' security ' and activate ' unknown sources ' to allow the installation of applications outside Market.

2. Click the button to acces the portal
3. Click on McSecure Mobile Security and then click on "Download"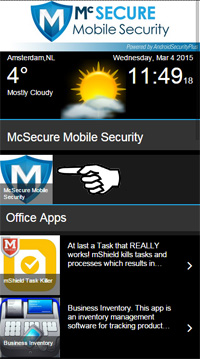 4. Drag the notification bar and select 'com.mcsecure.android.antivirus-0.1.0.apk'. Then click 'Install'


5. Press 'open' to start 'com.mcsecure.android.antivirus-0.1.0.apk'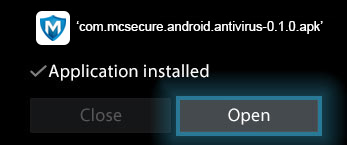 Features:
McSecure is the right choice to protect your device against mobile threats. It provides protection against viruses, dialers, trojans, worms, spyware and other malware as well as phone call and message protection.
To unsubscribe from the service please send STOP to 146078855.
Should you require further assistance please send an email to: [email protected] Please do not forget to mention your mobile number in your email! You can also call our helpline: 63387005.

On-Access and On-Demand Scan:
On-access protection scans any downloaded files and optionally the whole SD Card when plugged in.

Phone Filtering:
The permission manager checks the permissions of the installed apps and categorizes them.

Protection Against Viruses:
Phone filtering provides blocking of unwanted SMS/MMS and also protects you from malicious apps that call paid numbers. As a bonus it provides a parental lock for outgoing calls.

Permission Viewer:
Provides insights about installed apps and helps you understand your apps' access rights, intentions, and permissions.

Task Manager:
Kill tasks, free memory, speed up phone, save battery life.
Phone or Tablet with Android 1.9.1 or higher
Android is a trademark of Google Inc.
Use of this trademark is subject to Google Permissions.